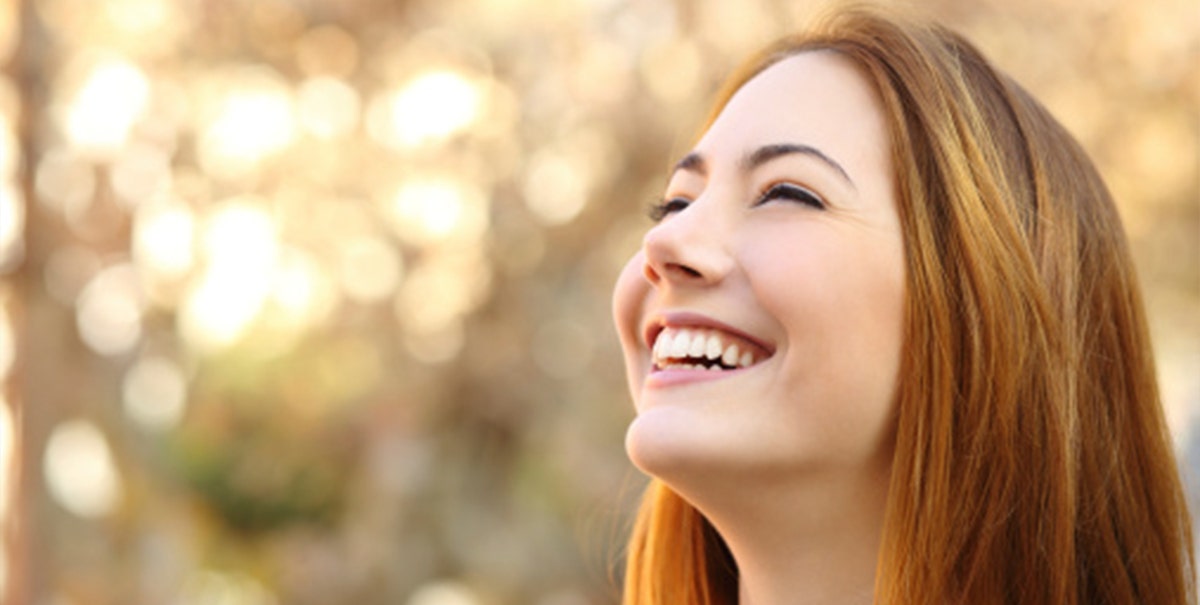 As we get older, our minds change, our bodies change and the way we look changes, too. It's not all bad: there's something very attractive about individuals who age gracefully, celebrating the way their faces change and their wisdom grows as they get older. That said, no-one wants to fast-forward the process, and it is certainly possible to slow the visible effects of aging – through diet, through rethinking our lifestyles, and through looking after our skin.
Here are some of the factors that cause premature aging, along with our recommendations for keeping the glow going.
THE TROUBLEMAKERS
AIR POLLUTION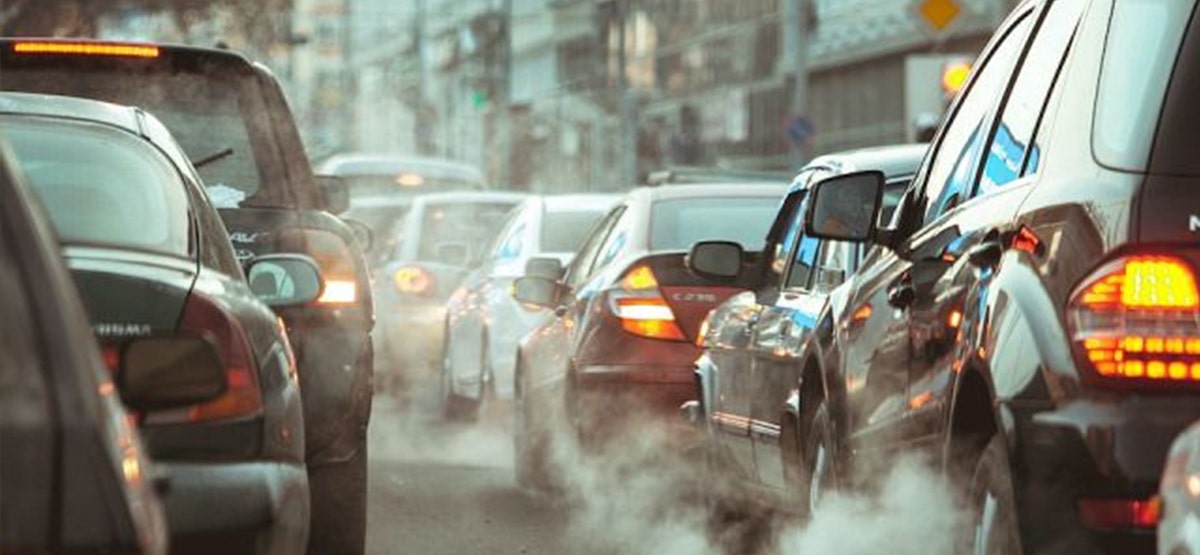 Research suggests that air pollution can prematurely age the faces of those living in urban environments. Made up of a toxic blend of tiny particles known as PMs, alongside nitrogen dioxide, polycyclic hydrocarbons and more, traffic smog in particular accelerates the development of age spots and wrinkles.
PMs are the worst offender, apparently: they penetrate the skin, reacting with cells in the deeper layers. They can make blood vessels grow, leading to rosacea and redness, as well as activate inflammation. Irritation causes the enzymes that reabsorb excess collagen to work overtime, removing more collagen than your skin can create. The result is fine lines and loose, lax skin.
SOLAR UV EXPOSURE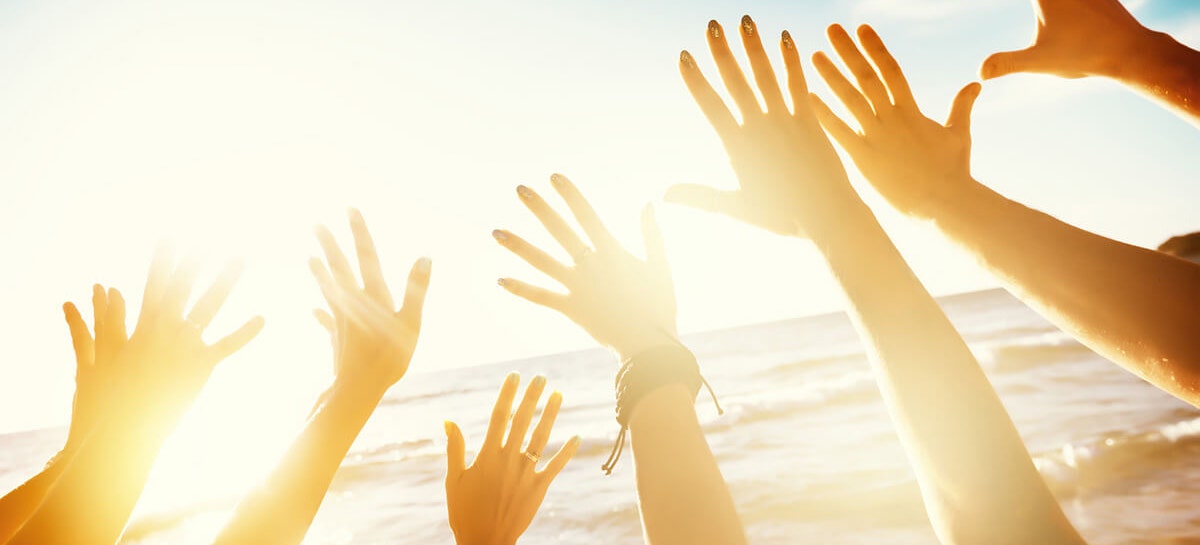 Solar UV (ultra violet) rays are responsible for between 80 and 90% of the visible signs of aging. Over-exposure to UVA, and to a lesser extent, UVB, rays can generate free radicals, which cause oxidative stress and the breakdown of collagen. This in turn causes pigmentation, uneven skin tone, changes in skin texture, wrinkles, as well as a reduction in skin firmness and elasticity.
The trouble arises when you expose yourself to the sun without protection – such as sunscreen or protective clothing – and for prolonged periods, or repeatedly over time. A small amount of exposure to the sun is actually recommended, to help our bodies produce vitamin D, which supports calcium production, and, studies say, good moods and cellular growth.
STRESS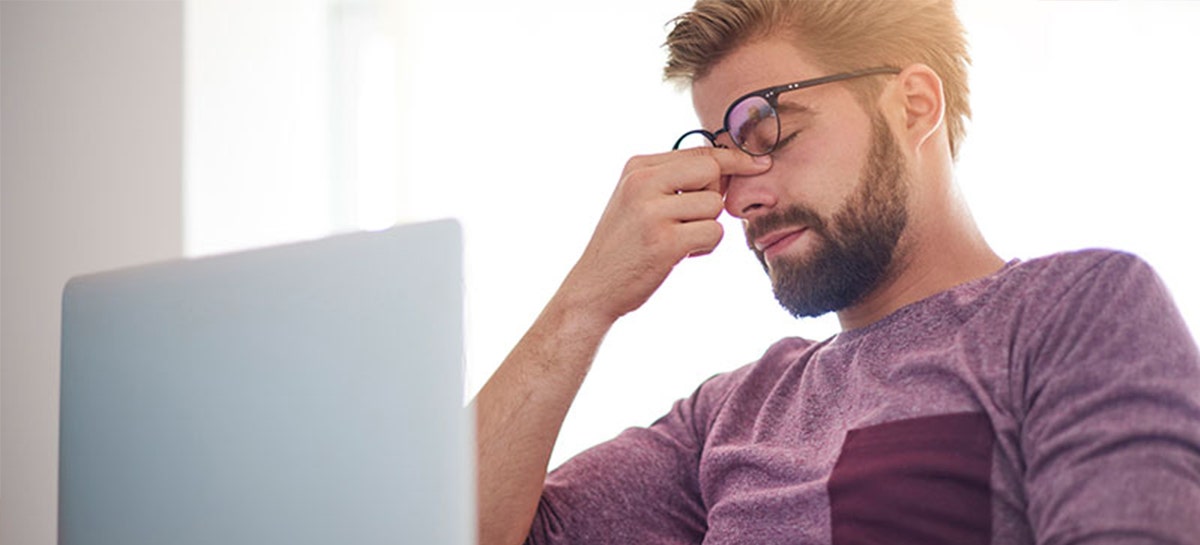 There's a strong connection between stress and the skin. When we're under mental, emotional or physical pressure, the body releases corticotropin-releasing hormone (CRH), among other hormones, which stimulates the production of cortisol.
Cortisol is the number-one stress hormone, and overproduction can be detrimental to the skin. For one, it can tell glands to produce more oil, leading to breakouts. It can cause inflammation, leading to redness, rosacea, eczema. Cortisol can also cause the skin's collagen and elastin to break down, leading to the formation of wrinkles.
VITAMIN DEFICIENCY

Deficiencies in vitamin D can lead to skin aging at an accelerated rate, say various studies, but it's not yet clear why. Other vitamins that affect the aging process are vitamins A, C and E. Deficiencies can lead to dry skin, slow the healing of wounds, inhibit the skin's natural protection against free radicals, and lead to acne and breakouts.
Healthy levels of these vitamins can, on the other hand, repair and replenish skin, making good nutrition a vital part of the anti-aging routine. If you don't feel your diet is adequate, get your nutrients from high-quality supplements like the Ogaenics range.
SKIN-BOOSTING SOLUTIONS
Combat those pesky perpetrators of premature aging with some of the finest clean and organic anti-aging treatments out there.
FIGHT POLLUTION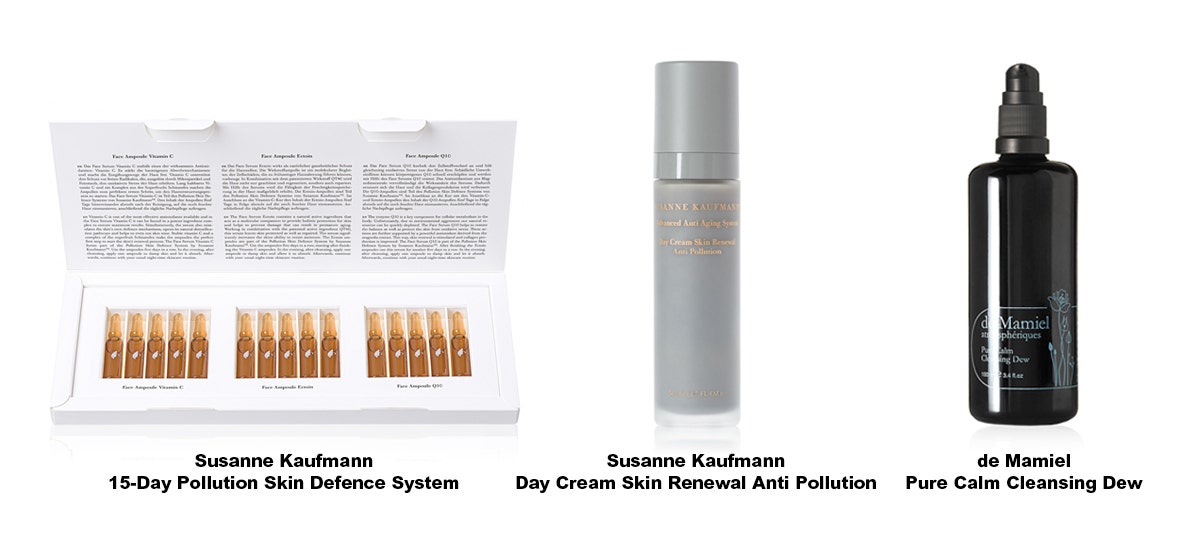 1. SUSANNE KAUFMANN 15-DAY POLLUTION SKIN DEFENCE SYSTEM features ampoules containing high-powered, activated vitamin C, Ectoin and Q10: the ultimate skin strategy to combat pollution, UV rays and blue light from your devices.
2. SUSANNE KAUFMANN DAY CREAM SKIN RENEWAL ANTI POLLUTION delivers a potent combination of daily care for mature skin with pigment correction and protection from UV rays and pollutants.
3. DE MAMIEL PURE CALM CLEANSING DEW clears away the residue of the day, from the toxic particles present in air pollution to make-up. This nourishing formula is packed with deeply regenerative phytonutrients.
SUN BUDDIES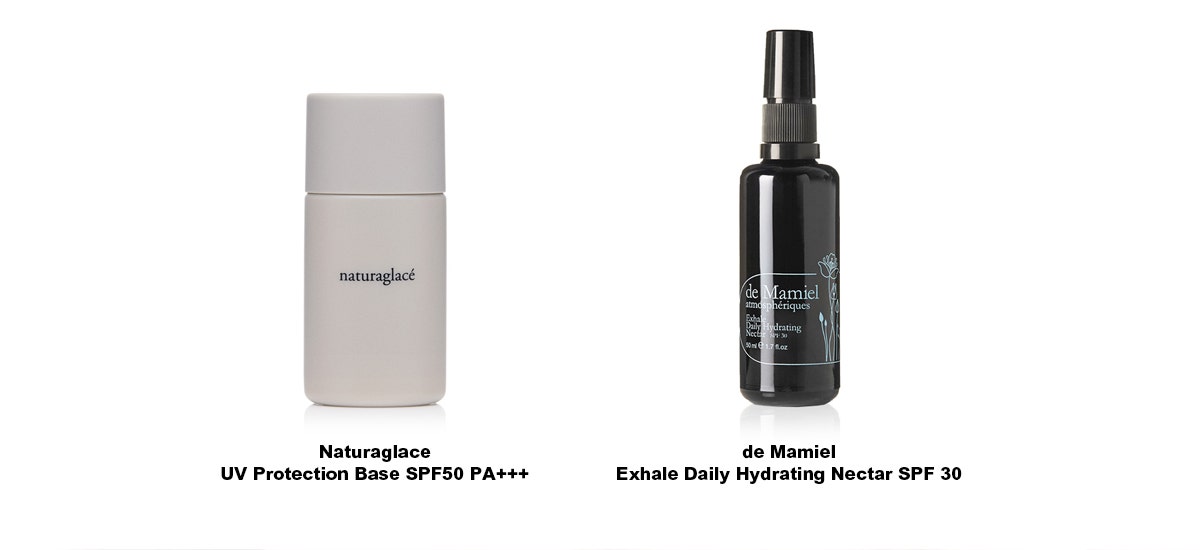 The UV PROTECTION BASE SPF 50 PA+++ from naturaglacé uses isoflavones, amino acids and bilberry leaf extract to keep moisture in. Its high SPF content ensures UV rays stay out. Meanwhile, de Mamiel's lightweight, sheer-tinted EXHALE DAILY HYDRATING NECTAR SPF 30 protects skin against oxidative stress and UV rays while replenishing via a potent blend of botanical antioxidants.
THE STRESS BUSTER
Manage stress naturally and breathe easy with OGAENICS ADAPTO GENIE organic-certified vitamin complex, which is packed with ashwaganda, plant-based B vitamins and more.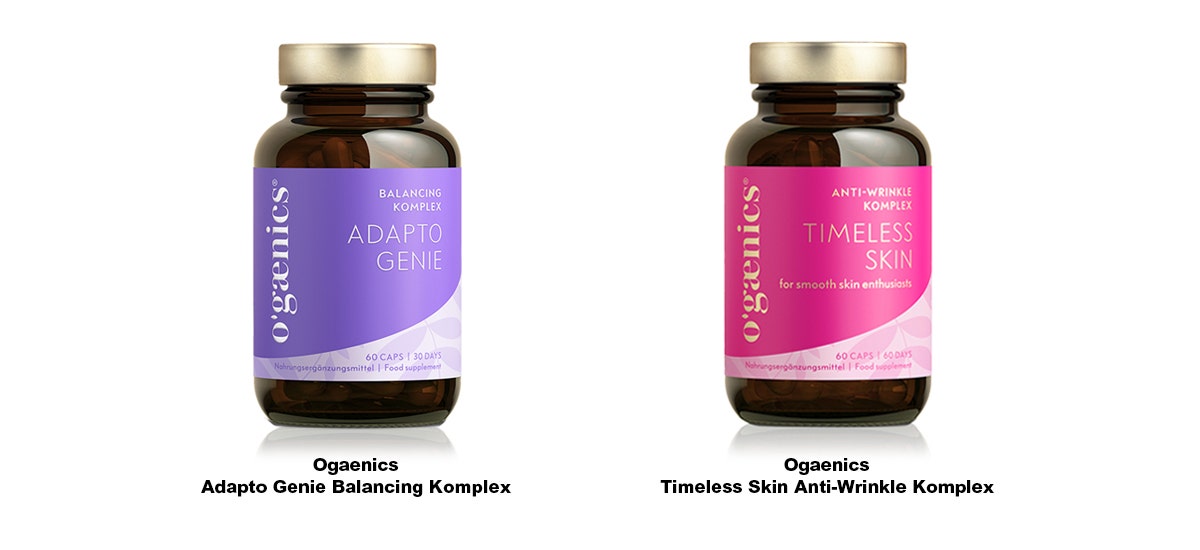 REPAIR SUNSPOTS, WRINKLES AND ELASTICITY
Also boosting beauty from the inside out is the TIMELESS SKIN supplement from Ogaenics, which smooths the complexion through plant-based squalene and ceramides.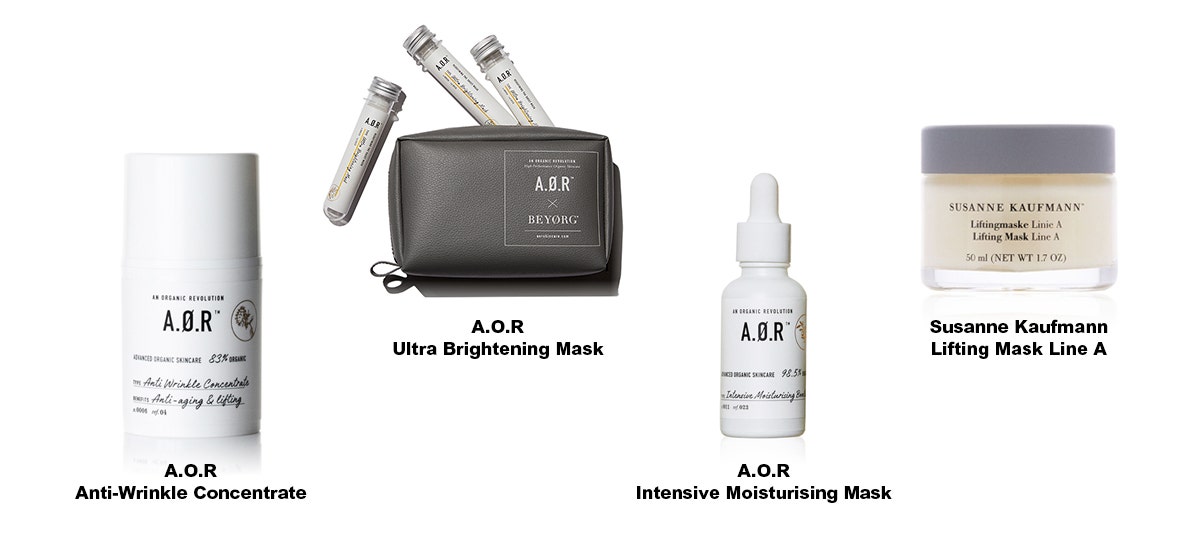 Go outside-in with A.O.R ANTI WRINKLE CONCENTRATE, which uses glycol-based proteins and marine ingredients from Antarctica to rejuvenate tired and mature skin. Give complexions a weekly lift with the ULTRA BRIGHTENING MASK from A.O.R, which is a 100% plant-based sheet mask using plant-based ingredients to detoxifying, reduce inflammation and irritation, minimise pigmentation and promote repair. Also from A.O.R, the INTENSIVE MOISTURISING BOOSTER rounds out this three-pronged approach to replenishing mature skin. Ingredients like Kakadu Plum reduce the damage from oxidative stress, while hyaluronic acid and other plant-based ingredients restore, replenish and protect.
Stimulate cellular regeneration and reduce the effects of stress on the skin with SUSANNE KAUFMANN LIFTING MASK LINE A. Q10 and argan oil, among other ingredients, support the skin's natural ability to protect itself from environmental toxins, while offering deep hydration and skin-smoothing.