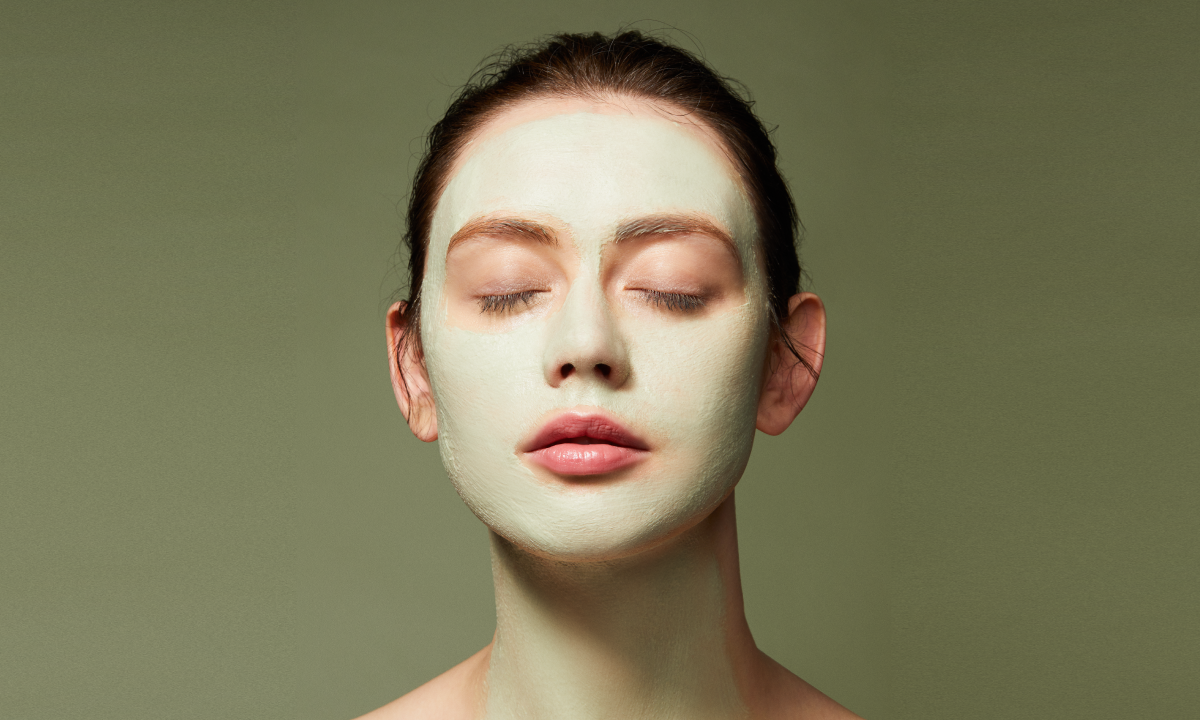 Despite what you may have been led to believe, self-care isn't selfish. When we tend to our own needs first, we recharge our batteries so we can feel good mentally, physically and emotionally – and ultimately, that enables us to show up for other people, too; and as our best selves. Self-care can be as simple as getting enough sleep, eat green, leafy vegetables every day, going for a walk, meditating, or treating yourself and your skin to a fabulous facial.
Just because the spas aren't open doesn't mean you can't indulge in a bit of pampering. Self-care can begin at home! With this in mind, the team at BEYORG put together a full-body routine: covering everything from lash treatments and hair treatments to facials and body boosters, this four-step routine will have you feeling like a queen (or king) for sure.
1. FACE SAVERS
Step one: Facials are one of life's small pleasures: they're relaxing, good for your skin -- and you can easily give yourself one at home using one of the following fabulous skin treats.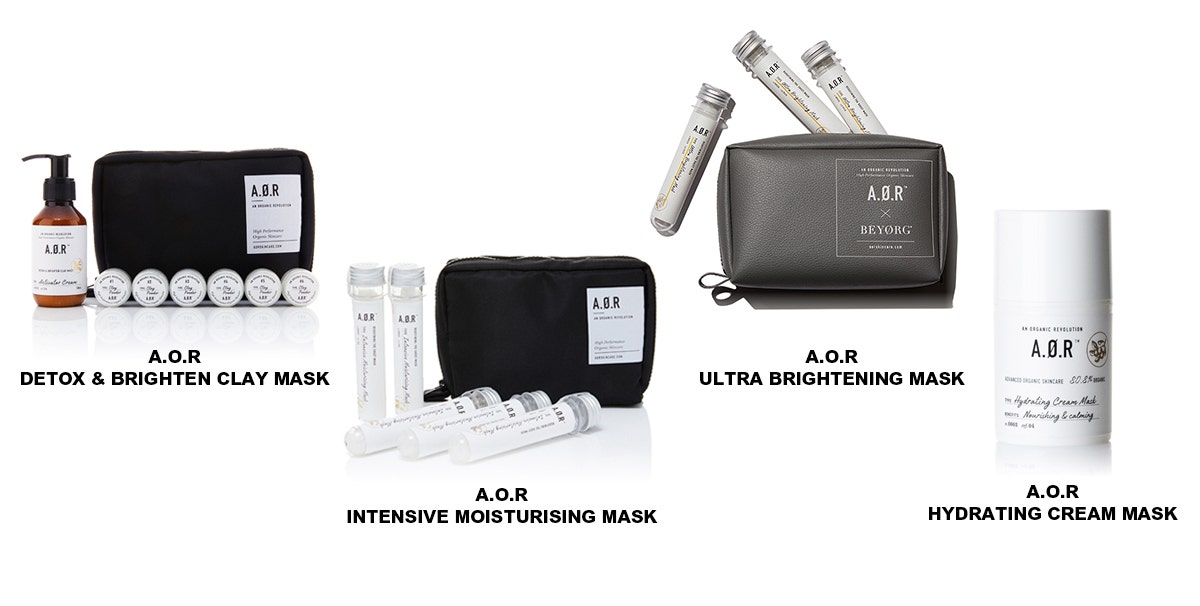 A.O.R DETOX & BRIGHTEN CLAY MASK
Certified organic by COSMOS, AOR's Detox & Brighten Clay Mask consists of clay powder and activator cream. The clay powder uses organic bentonite and kaolin clay to detoxify, unclog pores and remove dead skin cells. Meanwhile, the activator cream hydrates, calms and heals the complexion.
The potent ingredients in each are designed to activate only when you grind them together, transforming into a clay mask that's 50% detoxifying and 50% hydrating.
This mask delivers a deep clean like no other, while maintaining the skin's natural oils and preventing it from drying out. This mask removes blackheads and impurities to prevent breakouts, revealing radiant and brighten skin, and it restores the skin's natural health.
A.O.R INTENSIVE MOISTURISING MASK
This deeply hydrating sheet mask is revolutionary. Made of 100% plant cellulose fibre that absorbs 50% more nutrients than conventional sheet masks, it locks moisture in, firms, regenerates cells and boosts radiance.
This water-free mask, which is also certified organic by COSMOS, hydrates and brightens skin with 100% organic vitamin C-rich Kakadu plum, aloe barbadensis leaf juice, pepper berry extract and sodium hyaluronate.
It's like a mask and serum all in one, leaving you with clear, youthful, bright, radiant and baby-soft skin. It delivers next-level nourishment, visibly reducing the appearance of fine lines and plumping the complexion, while enhancing the skin's natural elasticity.
Rich in vitamin C-packed ascorbyl glucoside, olive leaf extract, ascophyllum nodosum extract and salix alba bark extract, this mask noticeably fades dark spots and freckles for lighter, brighter, smoother skin.
Acting as a mask and serum in one easy-to-use product, the Ultra Brightening Mask delivers long-lasting benefits. It repairs discolouration damage at a deep level, while strengthening the skin's connective tissue.
Dull, dry skin and uneven tone will be a thing of the past with this highly brightening mask. Instead, complexions will take on a radiant translucence. This the ultimate must-have – a luxurious, smoothing treatment for aging skin or skin showing signs of UV damage.
This rich mask quenches thirsty, dry and dehydrated skin with the help of intensely hydrating ingredients such as organic shea and cocoa butter.
Reducing redness, replenishing lost moisture and helping skin recover its luminosity, this mask has a deliciously soft, creamy texture.
For extremely dry or dehydrated skin, this COSMOS-certified organic product can be used as an overnight mask to restore your skin's hydration reservoir.
2. LASH LOVERS
Step two: Why not give lashes (and eyebrows!) a treat while you're at it? After a facial, apply this lash-plumping treatment. While you don't need to give yourself a facial every day, this product works best if applied for four to six weeks, or until you start seeing lashes and/or eyebrows thicken! After this you can use it once to twice a week.
| | |
| --- | --- |
| Amalian Lashes is a unique, highly effective and water-soluble gel based on hyaluronic acid that revitalises and stimulates the growth of eyelashes and eyebrows. | |
3. HAIR HEAVEN
Step three: get hair looking glossy and gorgeous with the help of either one of these nourishing products. Take your pick based on what's best for your hair type.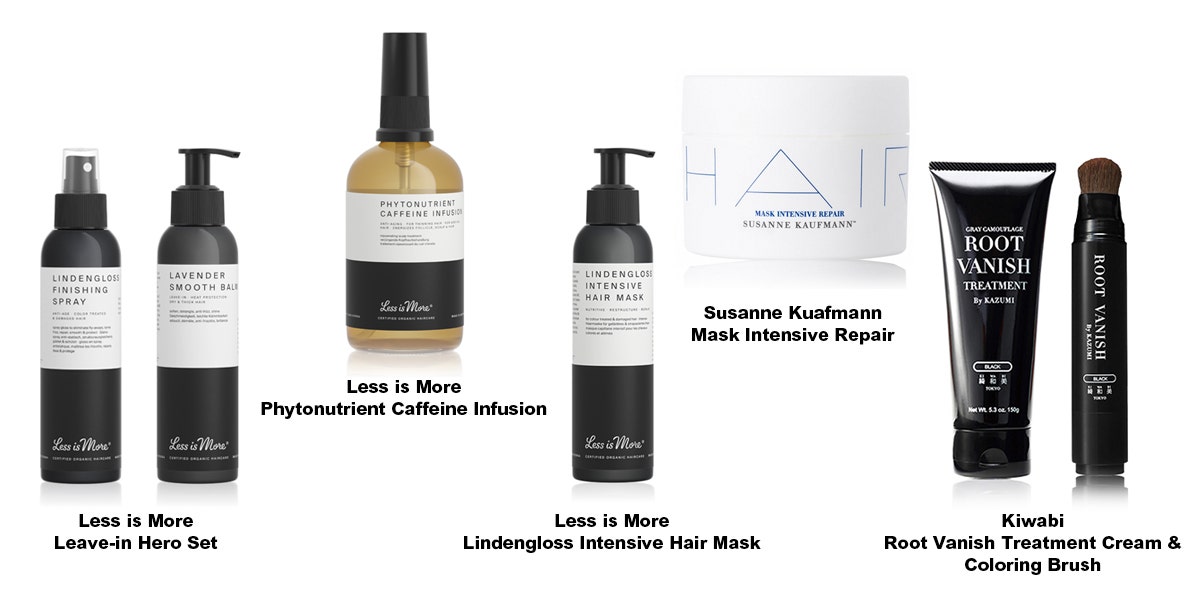 LESS IS MORE LEAVE-IN HERO SET
Lavender Smooth Balm:
Ideal for thick hair that's feeling dry and frizzing, this nourishing leave-in conditioner makes hair wonderfully soft, supple and easy to comb. It protects against heat when you're styling it (e.g. when straightening) and helps to prevent split ends.
Lindengloss Spray:
This glossing spray is great for all hair types, but it's particularly useful for coloured and stressed hair. It smooths the hair structure, has anti-static and anti-oxidative effects.
LESS IS MORE PHYTONUTRIENT CAFFEINE INFUSION
Novel phyto-based advance to youthful hair: rejuvenating scalp treatment with a highly efficient fusion of organic and phyto-actives. Energizes and revitalizes hairroots and scalp from inside out with an effective phytocomplex to slow down the first signs of scalp and hair aging, maintains hair structure, hair pigmentation and growth. scalp care and protection with natural antioxidants and the phytonutrient herbal complex.
LESS IS MORE LINDENGLOSS INTENSIVE HAIR MASK
This hair mask intensively nourishes and cares for the hair, moisturises it and helps to create healthy, supple hair full of shine. The contained oil complex has a smoothing and structurally balancing effect without weighing down the hair. Wheat peptides and pea proteins penetrate deep into the hair, revitalising it from within and restoring its natural protective layer. For visibly healthier and stronger hair and for noticeably better combability.
SUSANNE KAUFMANN MASK INTENSIVE REPAIR
The intensive repair mask is a hair treatment that repairs damaged and stressed hair and regenerates, nourishes and strengthens the hair structure from the root to the tip. A combination of silk amino acids and plant-based power ingredients provides the hair with moisture, minerals and nutrients. The hair receives new buoyancy, shine and a smooth feel. The hair structure is sustainably improved, its natural health visibly restored and repaired.
KIWABI ROOT VANISH COLORING BRUSH & TREATMENT CREAM
The first anti-aging, non-permanent hair colour line on the market instantly covers roots and banishes grey from sight. Made in Japan by Kiwabi, this product has no residue, no fragrance and a natural formula packed with over 22 Asian botanicals.
4. BODY BEAUTIFUL
Step four: don't forget the bod! Give yourself an all-over glow and super-soft skin with the help of these heavenly products. Start with the scrub, and follow this with de Mamiel's Salvation Body Oil.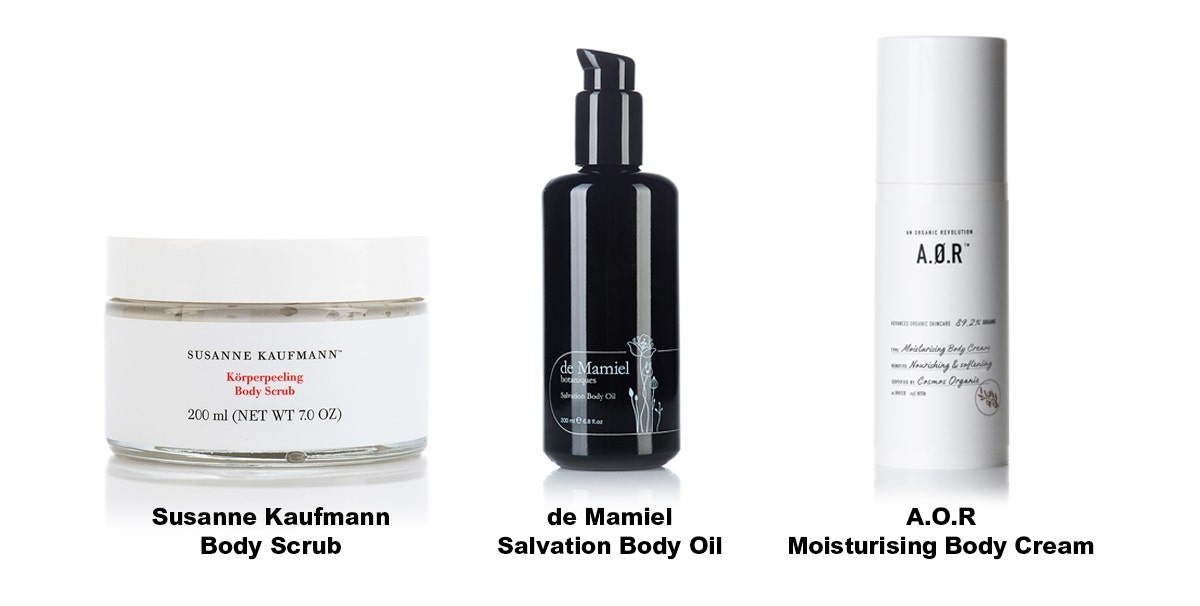 This divine body scrub features fine sea sand and pumice powder to cleanse the skin and promote circulation, supporting the natural renewal of the skin. The scrub optimally prepares the skin for subsequent treatments with rich care products (such as deeply hydrating creams, or the de Mamiel oil below).
Salvation Body Oil contains seven potent plant oils, including Argan and prickly pear – both are rich in essential fatty acids and antioxidants, renowned for strengthening and protecting the skin. As well as giving your skin a treat, this body oil will leave you feeling grounded, uplifted and supported, no matter what's going on in your life, thanks to a subtle, sensual mix of essential oils: Frankincense, Bergamot, Myrrh, Rosewood, Sandalwood and Jasmine.
Enriched with nourishing extracts of honeysuckle flower and rosehip oil, this body cream delivers 24-hour moisture to the deep layers of the skin, safeguarding it against dryness and supporting its moisture barrier. Also restoring elasticity, this cream leaves skin with a comfortably supple feel.