As many as 35 million men and 21 million women worldwide suffer from hair loss, says the Hair Society. Two-thirds of men will have lost a little hair by age 35, and by 50, 85% of them will have experienced hair loss. Two-thirds of women, meanwhile, will experience hair loss after menopause. Most of us have 100,000 to 150,000 hairs on our heads. It's normal to lose, on average, 100 hairs each day.
More than this is considered male- or female-pattern hair loss. It can be hard to distinguish between normal hair loss and excessive shedding. Symptoms of real hair loss – or alopecia – include gradual thinning at the crown of the head; patchy bald spots; handfuls of hair suddenly coming out when you brush, wash or tug hair; full-body hair loss (often related to medical treatments) or patches of scaling (related to ringworm).
HAIR LOSS TYPES AND WHAT CAUSES THEM
1. HEREDITARY HAIR LOSS (ANDROGENETIC ALOPECIA)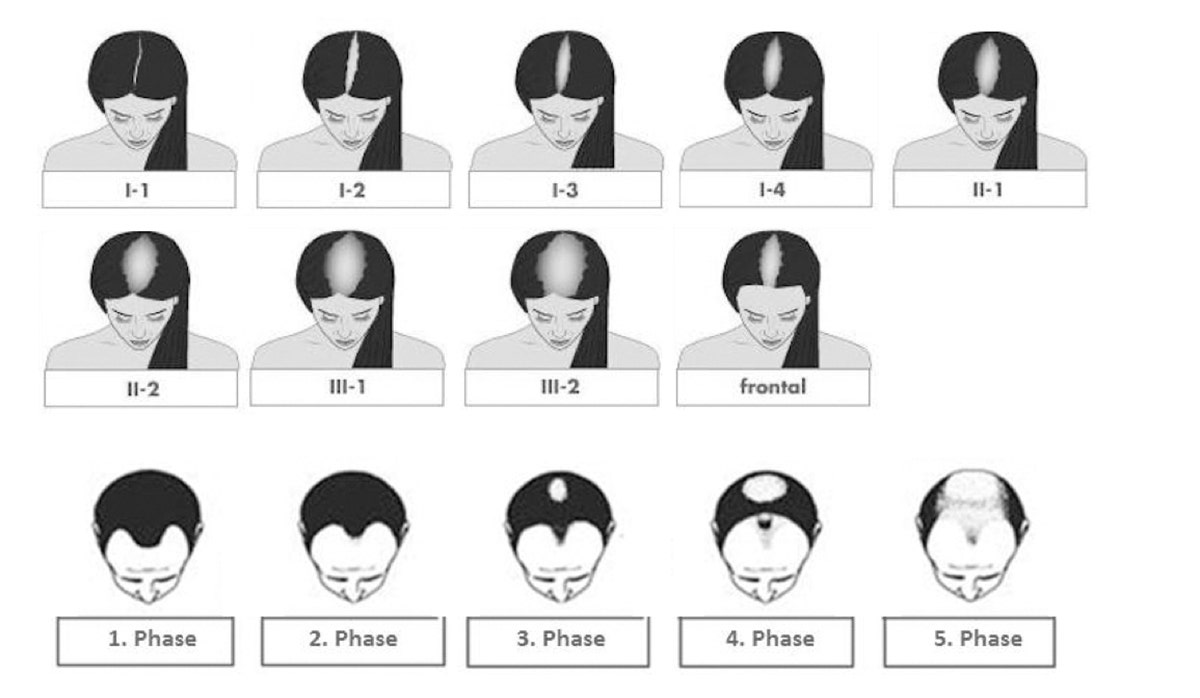 Hair loss is predominantly hereditary – as much of 95%. DHT (dihydrotestosterone) is an androgen that promotes hair growth in men and women (it also contributes to the deep voices that men take on at puberty, among other things) – and yet, as we age, it can cause the receptors on our scalp's hair follicles to shrink. This in turn leaves hair follicles unable to support healthy hair growth. This process often takes several decades.
For women, baldness appears mostly around the centre parting, while men will experience receding hairlines, tonsure-like effects (where hair loss begins from the crown of the head, leaving a ring of hair around the outside), and some men will eventually go completely bald.
If caught early, this type of hair loss can be treated with minoxidil. Minoxidil can irritate the skin, however, and it can even cause dermatitis. Pregnant women cannot use minoxidil.
2. DIFFUSE HAIR LOSS (TELOGEN EFFLUVIUM)

Caused by everything from stress and trauma to nutrient deficiencies; hormonal imbalances (thyroid in particular) and auto-immune conditions to chemicals, this kind of hair loss is generally reversible. Hair will thin across the whole scalp, often with a visible increase in hair shedding. If you're treating the cause, hair will soon start to grow back.
3. SPOT BALDNESS (ALOPECIA AREATA)

This type of hair loss is relatively rare. For the most part, it causes circular bald patches on the scalp, generally restricted to a limited area on the head. It typically resolves itself within a year – although it can come back – however it can last longer in some people, leading to total baldness or loss of all body hair.
What causes alopecia areata is not always clear. It can come on as a result of an autoimmune response, in which the body attacks its own cells. Alopecia areata is also much more common in those who have asthma, thyroid disease, hay fever or skin conditions like vitiligo (where skin loses pigment cells, causing it to lose its colour in patches). In those cases where alopecia areata affects people under 30, 40% of cases are caused by genetic conditions.
While there's no treatment for alopecia areata per se, there are potentially ways to treat the underlying autoimmune condition that caused it, and there are ways to circumvent autoimmune reactions showing themselves on the scalp.
WHAT YOU CAN DO TO PREVENT HAIR LOSS
1. CHOOSE THE RIGHT HAIRCARE PRODUCTS
Petroleum and silicone based products can disturb the natural functions of the scalp, thereby causing hair loss. Avoid products that contain the following chemicals:
Mineral oils: Paraffin, paraffinum liquidum, petrolatum, cera microcristallina
Silicones: Many of these have long names that are difficult to remember! Look out for – and steer clear of – anything that ends in 'cone', 'conol', 'col' or 'xane' (for example, cyclomethicone, siloxane and dimethiconol)
Petrochemical polymers: Acrylate, vinyl, carbomer, polyvinylpyrolidone (PVP)
Hard quaternary ammonium compounds ('quats'): centrimonium, behentrimonium or distearyldimonium
Aside from petroleum and silicone, many haircare products also contain synthetic detergents and preservatives that can cause scalp irritation and hair loss. Avoid products that contain the following chemicals:
Detergents: sodium laureth sulfate, sodium olefin sulfonate
Formaldehyde releasers: imidazolidinyl urea, DMDM hydantoin
Sensitisers and contact allergens: methylchloroisothiazolinone (MCI), methylisothiazolinone (MIT or MI), parabens
Less is More creates a range of certified COSMOS ORGANIC haircare with exclusively natural ingredients made from renewable resources and grown on organic farms.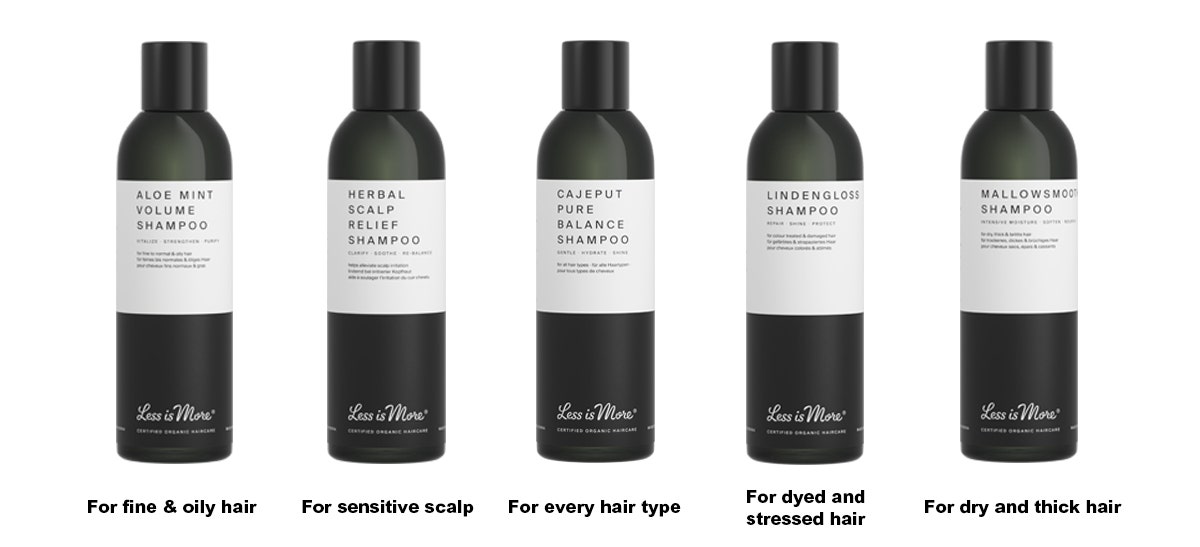 2. SCALP CARE: MASSAGE AND BRUSH YOUR SCALP REGULARLY
The foundations for a healthy scalp? Daily brushing with a bristle brush. This helps detox and revitalise the scalp, while distributing natural oils to hair tips. It also gently exfoliates the scalp and stimulates circulation of the hair follicles.
3. AVOID HAIR CARE ROUTINES THAT LEAD TO HAIR LOSS
Chemical-based products and harsh treatment can stress hair, leading to damage and eventually hair loss.
Here are some of the possible hair loss causes:
• Harsh shampoos
• Hair colouring and bleaching (this can irritate the scalp, causing contact dermatitis)
• Permanent waves (causes scalp irritation)
• Frequent use of blow dryers, curling irons and other heated appliances. Apply a heat protection product to dry or damp hair before using hot tools
• Improper or harsh brushing and/or combing (above all, don't brush your hair when it's wet: wait till it's dry, and use your fingers to detangle first)
• Tight ponytails, braids, and other hair restraints
While these routines generally don't cause immediate or permanent hair loss in women, they do often lead to dry, damaged hair that's more likely to break off, thus appearing thinner and more brittle.
4. EAT A HEALTHY DIET
Hair loss can also be attributed to nutrient deficiency. If you suspect you are deficient in certain minerals or vitamins, consider obtaining a blood test to get an accurate diagnosis. You can also adapt your diet to include more of the following nutrients, which are known for supporting healthy hair and nails.
• Vitamin A may promote the production of sebum, which prevents hair from getting brittle, as well as speeding up hair growth and leading to the production of thicker hair. Find it in sweet potatoes, eggs, spinach and broccoli
• Vitamin C contributes to collagen formation for the normal function of skin and blood vessels. You'll find it in guavas, red peppers, strawberries, broccoli, blueberries, oranges…
• Copper contributes to normal hair pigmentation. Find it in beef liver, shitake mushrooms, cashews, sesame…
• Omega-3 fatty acids are essential to maintaining a healthy scalp and they help create that lovely shine. Find these in fatty fish like salmon, flax seeds, chia seeds, walnuts, avocados…
• Selenium contributes to the maintenance of healthy hair and nails. Find it in Brazil nuts, eggs, sunflower seeds, liver (lamb or beef), rockfish…
• Zinc helps maintain healthy skin, hair and nails. Find it in pumpkin seeds, cashews, mushrooms…
Other nutrients that keep hair thick and glossy are B vitamins, vitamins D and E and iron, so look for foods rich in these vitamins and minerals (and consider a supplement if you're really depleted). It's also important to eat plenty of protein, because hair follicles are mostly made of protein.
5. TREAT YOUR HAIR RIGHT, INSIDE AND OUT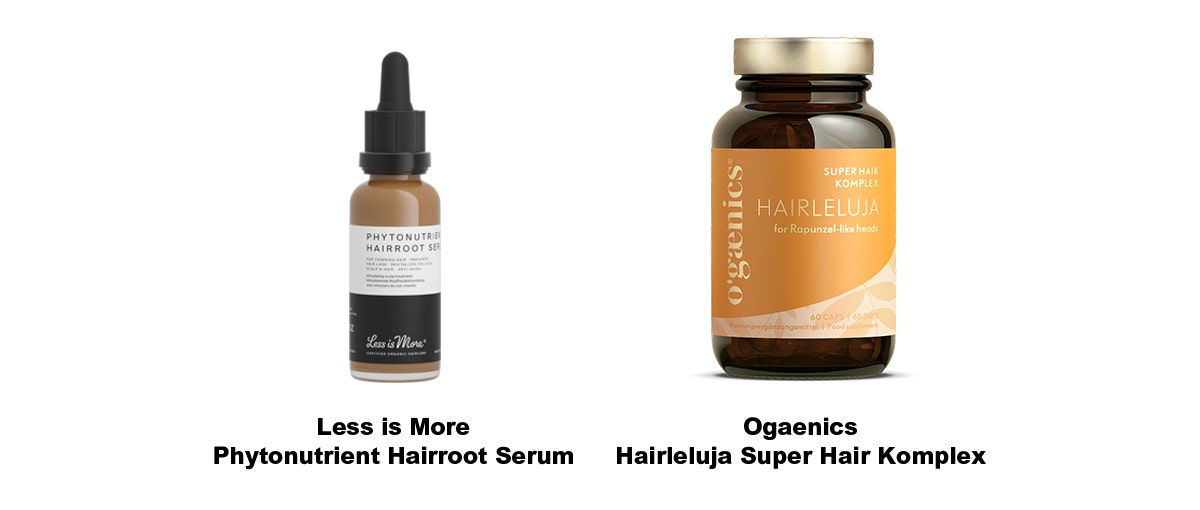 • LESS IS MORE PHYTONUTRIENT HAIRROOT SERUM
Containing a highly effective combination of biologically and bio-technologically active plant substances, this serum strengthens hair and gives it more volume, stimulates growth and prevents hair loss. Key ingredients include stem cells from the Swiss Uttwiler Spätlauber apple, which are proven to protect the hair's stem cells and to slow down the hair follicle aging process, and pea sprout extract to reactive hair growth for fuller, thicker hair.
• OGAENICS HAIRLELUJA SUPER HAIR KOMPLEX
Designed for women, Hairleluja is very effective for non-hormonal hair loss (telogen effluvium). This kind of hair loss affects about 50% of women in their lifetime. This one-a-day supplement contains a plant-based active ingredient complex featuring Keranat™ and the unsaturated fatty acids Omega 3, 6, 7 and 9. Keranat™ provides miliacin, a rare triterpenoid from millet, in combination with polar lipids. In a placebo-controlled study over 12 weeks with 65 women, 91% of the participants in the Keranat™ group observed a decrease in hair loss, and 75% noticed an increase of hair brightness and beauty. Fatty acids from organic sea buckthorn grown on the Tibetan plateau are also active in Hairleluja. Omega 3 (as alpha-linolenic acid), Omega 6 (as linoleic acid), Omega 7 (as palmitoleic acid) and Omega 9 (as oleic acid) nourish hair and scalp and support beautiful, shiny hair.